New Delhi: Indian consumer brand Milagrow has launched three new robotic vacuum cleaner devices, namely Milagrow iMap Max, Milagfrow iMap 10.0 and Milgrow Seagull, which are now available in Amazon Prime 2020 promotion starting on Thursday (August 6th) .
All three cleaning devices have independent navigation functions and are integrated with proprietary software called RT2R (Real-time Terrain Recognition) technology, which can be used for commercial and domestic purposes. The main features of the high-quality Milagrow iMap Max include high-pressure floor mop and automatic cleaning technology.
Main function, price
Milagrow iMap Max: The wet mop and vacuuming robot can automatically clean the mop under a pressure of 40N. This self-cleaning robot vacuum cleaner has a wet mop mechanism that will drop and apply a pressure of 10 N to the floor through two hydraulic shafts based on AI algorithms to remove dirt and stains on the floor.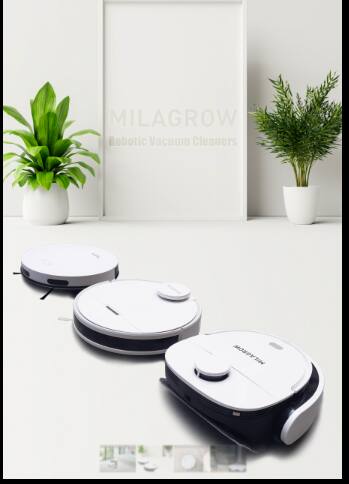 After wiping a specific area, iMAP Max will return to the base for self-cleaning. The AI-based robot vacuum cleaner will return and start cleaning from where it returned when the cleaning map is memorized. You can change the settings on the app to enlarge or reduce the area.
iMAP Max also has a Snail Touch Side brush, which can clean corners and other spaces. The robot has a reusable 1-liter dust bag, and users can install an optional disposable dust bag. Milagrow iMAP Max uses LIDAR sensor real-time terrain recognition technology to speed up mapping and real-time path planning. Equipped with 5200 mAh battery and 2200 pa strong suction power, it can even pick up small stones or beans. The robot has a 2-year warranty and a 5-year warranty on the Japanese suction motor.
The price of Milagrow iMAP Max with water tank is Rs 99,990/-
Milagrow iMap 10.0: The device is also a completely independent self-navigating robot vacuum cleaner that comes with the electronic water tank, but does not provide the self-cleaning technology that comes with iMap Max. It is equipped with a 5200 mAh battery, Milagrow can ensure that the battery can last up to three hours, and provides a strong suction of 2700 Pa. It also includes a LIDAR sensor, which is said to provide cleaning accuracy of up to 8mm.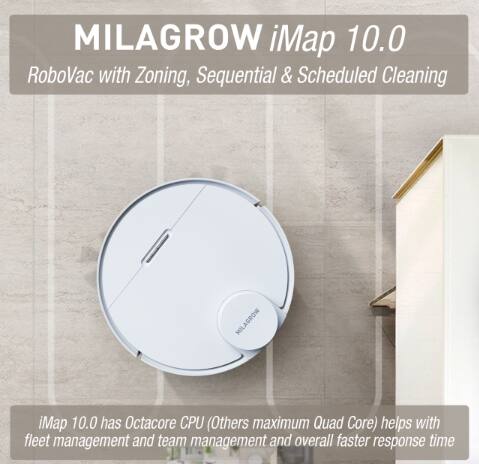 It has a total of 18 sensors and is powered by an eight-core CPU. According to ICMR's recommendation, an electronic water tank with iMap 10.0 can use 1% sodium hypochlorite solution to kill COVID-19 spores on the ground. Milagrow iMap 10.0 has a triple air filter system with HEPA12, which can remove 99.5% of PM up to 0.19.5 microns. The robot also has real-time complete self-diagnosis and troubleshooting display functions. It has a 5-year suction motor warranty and a 2-year comprehensive warranty.
The price of iMap 10.0 is Rs 89,990/-
Milagro Seagull: The cleaning robot Seagull has a height of 7.2 cm and uses "gyro texture" technology. It displays real-time progress and maps when cleaning user equipment. The robot plans the path of each area in real time to reduce the time spent.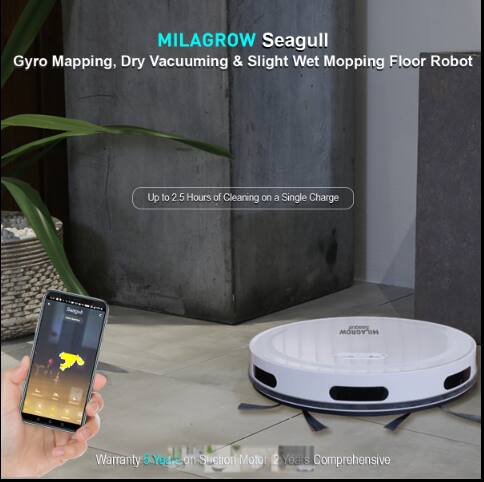 The robot vacuum cleaner also has antibacterial, antimicrobial and antiviral (0.5 micron) properties, helping to minimize the spread of infections in hospitals and similar environments. The robot can help with a slight wet cleaning. It has a NIDEC brushless motor with a suction power of 1500 pa, which can maximize the cleaning ability.
Seagull has a 5-year suction motor warranty and a 2-year comprehensive warranty. The price of seagull is 20,000 rupees/-
Rajeev Karwal, the founder and chairman of Milagrow Robotics Company, said: "These three "white robot riders" are specially launched, taking into account the new situations that have emerged in homes, offices, hospitals, hotels, etc. due to the pandemic. The need for sanitation and disinfection in real time Terrain recognition technology combined with the pressure mop on the floor, and then the automatic cleaning of the mop is the world's first. Our goal is to achieve sales of more than 10 million Indian rupees by launching these robots on Amazon Prime Day. August 6 and 7th."
.